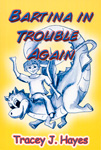 Buy The Book
Bartina in Trouble Again
About Me
The Early Years
My interest in reading and writing began at an early age. My mom often read to me and visits to the library were a highlight. I was always leaving the library with a stack of books as high as me! My first writing venture was poetry. I won second place in the Bolingbrook Fountaindale Public Library Poetry Contest in the second grade division. I loved going down to the local pond and catching (or trying to catch) frogs and toads. This was my inspiration.
The Teen Years
My teen years overflowed with angst. My parents probably thought those years would never end, but they couldn't have been too bad as my mom still isn't gray yet! One of the poems I wrote about the rigid controlling environment of the teen years and high school was published in October 1987 in Teen Magazine.
Education
I attended St. Norbert College in De Pere, Wisconsin where I earned a B.A. degree in Communication/Media.
I received my M.A. in English with an emphasis in Literacy, Technology, and Professional Writing on May 10, 2008 from Northern Arizona University in Flagstaff, Arizona.
Currently, I am working on my doctorate in English (Rhetoric, Composition, & Linguistics) at Arizona State University (Tempe, Arizona). My research interests are digital and social media.
Today
I currently reside in Phoenix, Arizona with my leopard gecko Picabo. They say owners resemble their pets and we both do enjoy the warm and sunny Arizona weather.