Awards
Writer's Digest Magazine Best Writer's Web Site Finalist
The October 2008 issue of Writer's Digest features the ten finalists in their Best Writer's Web Site Contest for 2008. Contest entries were limited to Web sites designed by the author. www.traceyhayes.com was selected as one of the finalists and a thumbnail of the home page was displayed on page 54 of the October issue.
Samuel Larue Finley Humorous Writing Contest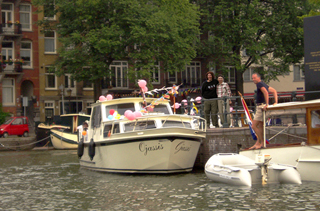 I received an honorable mention for the Samuel LaRue Finley award in 2007 for my humorous essay "Mom Versus Amsterdam."
The article answers the question: How many embarrassing moments can be experienced during one day in Amsterdam with your mother especially when she encounters the Gay Pride Boat Parade? Mom and I are pictured here next to one of the brightly decorated parade boats.
Abilene Writers Guild Annual Contest
In 2005 I entered the Abilene Writers Guild Annual Contest in the Children's Stories for ages 3 to 10 category. My story "Lizzy the Lizard," about a young girl who rescues a lizard she finds in her garage, won an honorable mention. The judge in the contest wrote on my manuscript critique, "You are obviously a very talented writer. I hope you keep writing." These words have helped me to continue writing when the mailbox is filled with rejections.